Jan with Roma friends in the mid 1930's
Jan Yoors (1922-1977)
Jan Yoors was born in Antwerp, Belgium to a cultured, liberal family of artists. At the age of twelve he ran off with a Gypsy tribe and lived with the kumpania on and off for the next ten years. (His memoir of this period, "The Gypsies", was published in 1965 and remains a seminal work on the subject.) During World War II, Yoors worked with the Allies to help the Gypsies who were being systematically exterminated. He was captured twice and imprisoned until the end of the war (these experiences were recorded in his book, "Crossings", published in 1971).
Before the war, Yoors had studied sculpture at the Royal Academy of Fine Arts, Antwerp and at the Institue Superieur d'Art de la Cambre in Brussels. Once the war ended, he resumed his studies, enrolling in the School of African and Oriental Studies at London University. While there he was introduced to the art of tapestry in a chance visit to an exhibition of medieval tapestries. He never received much formal training in the medium. His expertise came instead from life-long study of the world's great weaving traditions, from Aubusson to Samarkand. His early work was largely figurative, but became increasingly abstract in his later years.
In 1950 Yoors settled in New York City, where he set up a studio and constructed a 15-foot vertical loom. His wife Marianne and her friend Annebert joined him in 1951; they were to collaborate with Yoors in the weaving of all his work. Jan would start by creating a full-size
cartoon and selected Persian wool dyed to his exact specifications. Using the cartoon as a guide, Marianne, Annebert, and other skilled artisans would weave the tapestry under his supervision.
His work brought him international acclaim. His first exhibition was at the Montclair Art Museum in 1956. In 1959 Art in America magazine nominated him as one of the new talents in the USA. Further recognition came when he represented the United States at the International Biennial of Contemporary Tapestries in Lausanne, Switzerland in 1962 and 1965.
In the 1960s Yoors deepened his interest in photography. To research Only One New York, his 1963 feature-length documentary film about the city's ethnic diversity, he shot photographs that were collected in a book of the same name, published in 1965. He also returned to Europe to reestablish contact with those Gypsies who had survived he Holocaust. The pictures he took on this journey became an exhibition at the National Museum of Science in New York City and now illustrate the paperback edition of "The Gypsies".
During his life, Yoors' tapestries were exhibited in numerous museums, galleries, and public buildings and were sold to major public collections. However, marketing his work was never a priority and a vast cache of his work now fills a New York apartment, where Marianne and Annebert continued to weave his unexecuted designs in a studio cluttered with hundreds of Jan Yoors' tapestries, photographs, paintings, prints, and sculptures.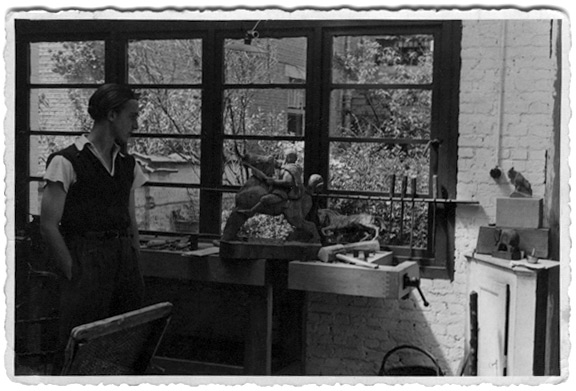 Jan in his studio in Berchem Antwerp built in the back of the family home.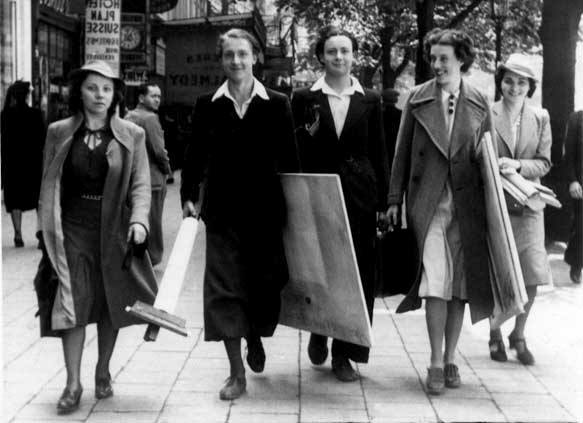 Jan going to the Royal Academy of Fine Art 
(Koninklijke Adademie voor Schone Kunsten Antwerpen) in Antwerp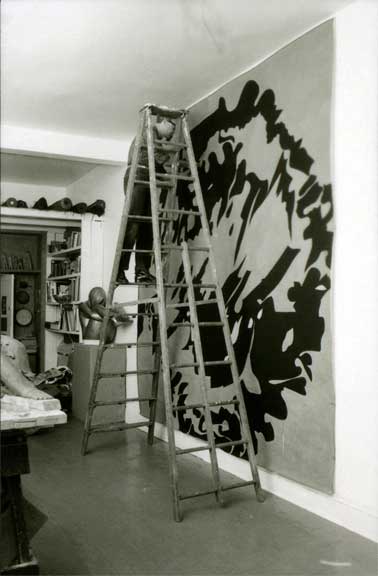 Jan creating a cartoon for a future tapestry in the Waverly Place Studio.